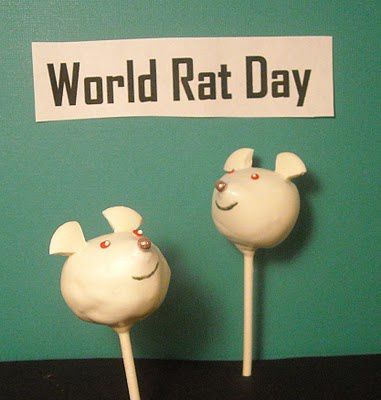 For those of you who don't already know, April 4th, marked the 10th celebration of World Rat Day, not to be confused with the Chinese Year of the Rat, which was 2008.
On World Rat Day, pet rat owners and lovers get together to show their love and affection for pet rats by getting them nice tasty things or do fun activities with them. While it is a day to have fun with your beloved pet, it is also a day to create pet awareness and to promote the view that rats are also pets and should be loved and cared for.
Popular World Rat Day Slogans
There are slogans for every day, event and occasion. World Rat Day is no exception. Here are some of my favourites.
Rat here. Rat now!
Have you hugged your rat today?
Rats make good pets!
Got Rat?
Rats are underRATed
Common activities on this day include educating the general public about rats. After all, there are all sorts of rats out there. There are big ones and there are small ones; cute ones and scary ones. Many people celebrate the day making toys and giving gifts to their pet rat or pet rat owners. It is a great way to get together and mingle. Social platforms like Facebook and Twitter are also a buzz around this time with pictures of rat owners posing with their pet rats.
I don't have a pet rat. I am more of a cat person but from my perspective, the most important message that I can take from World Rat Day is that not all rats are pests and that all rats are not created equal. True, there are cases of rat infestations where rats, living as uninvited guests, are so large in number that they become hazardous to a home. Yet there are also those cute adorable ones that are playful, mischievous and make great loyal pets!
It's time to celebrate World Rat Day. Rat here, rat now!