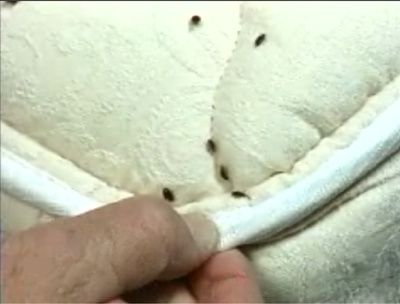 Bed bugs are fairly small in size but the nuisance they can cause is a lot worse, they infest your home and no matter what you try to do they simply do not leave.
Bed bugs are of a brownish colour and are really small in size; they tend to sleep during the day time and stay up all night causing problems. When a bed bug bites, it causes extreme redness and itching on the affected area. If you have a clear idea about what to look for then it will be fairly easy for you to diagnose bed bugs in your home and listed below are some ways on how to diagnose bed bugs.
The very first sign of a bed bug infestation is the red marks that you get to see on your skin. This is the very first alarming sign that tells you that your home is infested with bed bugs. The red mark on your skin will be raised and might even cause a hive of as big as eight inches.
Bed bugs tend to give off a particular smell in any place that they occupy. It's a very strong sweet like odour generally caused due to oil secretion.
Keep your eyes open for any skin of bed bugs. What happens is that when bed bugs feed, they tend to take off their skin which looks light brown in colour, you might find these in your bed and also in any other hiding place that they might be occupying such as walls or furniture.
If you want an easy way of finding these bed bugs then put plain white coloured bed covers on your mattress as bed bugs will be a lot more visible on these sheets. Look in the cracks of your bed to diagnose the infestation of these bed bugs.
You just have to keep your eyes open in order to diagnose the bed bug problem and the very first thing that you ought to do is call for help. Hire a professional pest control company that will eradicate these bed bugs in a timely manner before they cause any more damage to your home and your skin.